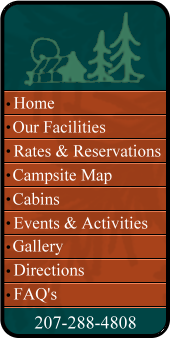 Please call or write for reservations or information.



Check out our new guest guide!


FAQ's (frequently asked questions)

Q: Do you allow dogs?
A: We welcome your well-behaved pet, but to ensure the enjoyment of all of our guests we require several things:
1. They must be kept on a leash at all times.
2. You must clean up after them.
3. They can never be left unattended. If you are to go out for the day or for an evening, your pets need to go with you. They are not to be left at the campsite or cabin without supervision. This is for their safety and courtesy to your neighbors.
4. Pets are not allowed in the Bathroom and Shower facilities.

Q: Do you charge additional fees for Electric Vehicles?
A: Yes, we do. Given the rising cost of electricity and wanting to keep our rates low, we have had to implement a fee for electric vehicles being charged while on site. It is a $25.00/ night fee. This does not include electric bicycles.
1. There are locations throughout the area where you are able to charge your vehicle for a lower cost, we are happy to provide these locations to you.

Q: What are your campsites like?
A: Each site is different. We offer wooded or grassy sites, each with its own fireplace (ring) and picnic table. Some of our campsites offer full hookup (electric, water & sewer on site), some have just electric & water, and others have no hookups. The you call to make your reservation, tell us what you have in mind. Based on availability and the size of your camping unit, we'll find the best spot for you. 

Q: Does the campground enforce quiet hours?
A: Yes, we do!! Quiet hours are from 10pm to 7am and are strictly enforced. Radios & outside tv's must be off by 9:30pm. Upon checkin you will be given a guide with an after hour number to call to report an infraction. Staff is on site and available 24/7 to address any problems.

Q: What do you sell in your store?
A: We are excited that our store is expanding. You can expect to find: ice (block or cubed) , firewood & kindling, camping supplies, souvenirs, toiletries, candy & ice cream bars, postcards, HPCG merch, and more.

Q: What are "metered showers"?
A: Metered Showers are coin operated showers. Each shower costs 50 cents (2 quarters) for 7 minutes. Change can be made in our office (cash exchange only).

Q: Can you see the water from your campground?
A: Unfortunately, you can not see the water, but you can access it!! Hadley's Point Beach is only a 1/2 mile from our entrance down a quiet residential road. If you prefer, you can drive…parking is available at the beach. Many enjoy catching the sunset from the beach.

Q: Is there an age requirement for renting a campsite or cabin?
A: Yes, you must be 21 years old or older to rent a campsite or a cabin. ID will be required at checkin and registered adult must be present for duration of the stay.

Q: Do you have WiFi?
A: Yes, we have free WiFi that reaches all camping areas. Password will be provided at check-in.

Q: What is a Honey Wagon?
A: A honey wagon is a portable dump station of sorts. You can sign up for this service at our office (please see rates/ reservation page for pricing)

Q: Can we bring our own firewood?
A: It depends. If you've purchased or cut down your own wood in Maine, you are welcome to bring it. If it comes from out of state, you need to leave it behind. Sorry folks, this isn't our rule; it's a state law aimed at keeping our forests safe from insects and diseases that aren't native to Maine. We do sell firewood in our store.

Q: Does your campground offer seasonal rentals?
A: I am sorry, we do not offer any seasonal rentals at this time.

Q: Can I set up a tent on my site with my camper?
A: No. We only allow 1 camping unit per site. No tents to be set up on a site occupied by a MH, trailer, pop-up, conversion van, pickup camper, or in our cabin area. This also includes no sleeping vans or trailers in our cabin area. This is to minimize overcrowding as well as protect our resources her on the campground. We understand that you may have family members joining you that would like to have a tent, however, we keep our rates very reasonable so they can still join you but on a site of their own.

Q: How many tents can I set up on my site (I do not have a camper)?
A: For tent sites you are allowed: 1 tent & 2 non-sleeping vehicles ($) OR 2 tents & 1 non-sleeping vehicle. 2 tents & 2 vehicles require 2 campsites.